I'm 99% sure I am going to be participating in the SITS Girls' 31 days to a better blog program.
I don't want to wait to get started but I think it would be advantageous of me to start when they have their big party in June. I'm going to cheat and look at the
FORUM'S
from their prior parties so I can start getting myself together and then I'll "officially" participate with all the ladies in June. I'm excited to connect and meet new women who are in the same boat as I am. I want to be able to provide a better blog for both myself and readers. I also think that this program will help me control the flood of ideas and the multitude of directions that I have been going in.
Sooo....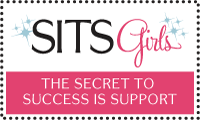 I'm a SITS Girl! Leave me some love and I'll push it right back. It's all about helping each other out.